"Discover how to ease your aches and pains even if you cannot physically come in to one of our clinics"
Claim Your Free Guide Before Having Another Treatment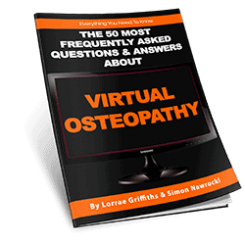 If you are in a remote location, you are short on time, you are sick or unwell or just cannot physically get to one of our clinics or you simply do not like sitting in waiting rooms then you must consider telehealth.
Telehealth at Focus Osteopathy is a virtual form of consultation which has been specifically designed for those who have been suffering with back pain, neck pain, shoulder pain, knee pain or any other muscle or joint pain but who for a variety of reasons cannot come in to see us in person.
Telehealth at Focus Osteopathy is a combination of education, exercises, self-treatment techniques, guidance, coaching, rehabilitation and strengthening delivered by your fully qualified Osteopath or Exercise Physiologist.
How can choosing to see a Practitioner at Focus Osteopathy using telehealth help you with your aches and pains?
If you've been suffering with pain for a long time and you are in a situation which makes it difficult or uncomfortable to physically come in to clinic, it can be very tempting to simply live with it and hope that it'll go away on its own. You might also be tempted to pass it off as something that everyone your age will have to "put up with" at some point. However, we know that inactivity, immobility and living a sedentary life do have a negative impact on overall wellbeing.
With Telehealth at Focus Osteopathy, our goal is to continue to provide you with the most ESSENTIAL part of your treatment sessions but most of all provide you with CONFIDENCE in your body's ability to heal and be strong.
For our online treatment sessions, you will need…
Once you chat to one of our friendly front desk team and book your session, you will be sent an email with all of your login and access information to a private, secure video consultation with your preferred therapist.