"Live the life you deserve! Reduce pain and tone up with clinical pilates."
Break up with your pain cycle
Is it time to break up with your pain cycle? You know, the one that stops you lifting your kids and playing your favourite sport? If so, it's time to get into Clinical pilates.
Unlike generic Pilates classes (which are great if you're not in pain), Clinical pilates sessions are all about you. Each session is customised to your specific rehabilitation or injury management needs. It's like having your own personal trainer to help you recover.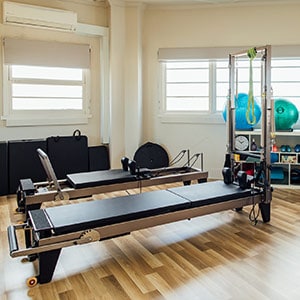 Helping you feel stronger and more agile is what Clinical pilates is all about. Each Clinical pilates session will help you to:
Improve your mobility
Improve your flexibility
Build your strength
Alleviate unnecessary stress on peripheral joints.
You'll probably get back to doing the things you love
What is it that you miss doing? Picking up the kids? Playing golf? Lifting things around the house? Whatever it is, there's a good chance that Clinical Pilates can help you get back to doing it.
Here's what Clinical pilates can do for you:
Correctly diagnose and treat your pain or injury
Create exercises that target your problem areas
Get your body back to its best possible condition
Keep you off painkillers
Improve your quality of life.
Everyday, people around Australia turn to Clinical pilates to strengthen their body and treat pain. While everyone's situation is different, you may experience a lessening of your pain almost immediately.