Posture in medical terms, is the position in which you hold your body upright against gravity while standing, sitting or laying down.
Derived from Latin positura or posit meaning 'position' or 'placed'.
In today's world, we have to sit for lengthy periods of time; in traffic, at school desks, at a computer or lap top, using iPads or Smart Phones, in front of a TV, or phone texting (I see people doing this all the time). We also have to consider other stresses to our bodies over time, for example; carrying bags or daily home tasks. Gradually, most of us develop a habit of hunching, slouching or leaning forwards. During these lengthy activities, our bodies have to counteract gravity while fatigue intensifies from our hip area right up to our neck muscles. Upper shoulder muscles then begin to assist, causing pain and imbalances to the whole neck and shoulder region. Try telling this to a teenager!
Take a look at this picture of colleagues discussing work at the lap top, it happens every day.  No problems here?
But have a look at the man's head – it's placed well forward of his shoulders.  Also, have a look at the level of his chin – its well below his shoulders.  Thousands, if not millions, of people would do this during the day, every day, without even thinking about it.  In this high-tech world, no wonder people get Neck Pain.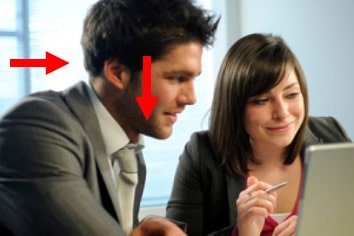 Our heads are supported by our necks, which is a very difficult task considering how thin it is in comparison.  Our neck muscles move, stabilise, feel stress, and have the burden of gravity by holding up our head.  Basically, when posture is compromised or traumatised in any way, our necks can feel pain or tension.  Pain is usually felt in the back of the lower neck area and around the front near the clavicles, as well as up very high just under the cranium.
In addition, consider the shoulders coming forwards, usually the right hand controls the mouse, so shoulder flexion with some internal rotation is required.  This may mean tight pectoral and rotator cuff muscles.
What about the hips?  Usually people sit bent forwards, so trunk flexion is a consideration.  Review and palpation of the hip flexor and hip adductor group is part of my general assessment.
If…
Poor Posture + Gravity = Tightness and Pain, then the challenge is to modify your working or social environments combined with self-discipline to help support your posture.
On the bright side, there are things you can do and consider.  During the day, set a quiet alarm to alert you every hour, so you can roll the shoulders around and take stock of your own posture.  Introduce better habits like sitting 'taller', walking often, pushing your chin back – it's easy & practical.
What makes things better?
Accurate information and assessment of the neck and shoulder areas in addition to spinal & hip observations
Massage Therapy targeting areas from the base of the skull, shoulder blades, down to all back and hip areas if necessary
Regular Awareness of your Posture is crucial, together with frequent relaxed neck & shoulder movements
Self-management procedures and follow-up treatments are vital to a successful outcome
Be Aware of your POSTURE – YOU are in charge.  Get help Now.
Massage Therapy Increases Movement, Restores Function and Reduces Pain.