Are You Suffering From Back Pain?
"Soothing back pain and back stiffness to help you get back to doing the things you love."
Claim Your Free Guide Before Having Another Treatment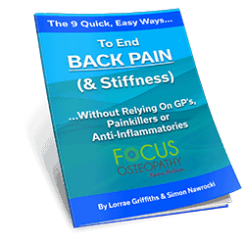 Is back pain affecting your quality of life?
There's no two ways about it. Back pain can make you miserable. It can stop you doing the things you love and prevent you from taking part in everyday activities. Whether its playing sport, working or just spending quality time with your family, back pain can ruin your plans and leave you feeling frustrated and distressed.
Here's what you need to know
Approximately 4 million Australians experience back pain each year.¹ Two in five with back problems say that the pain interferes with their daily activities. Yet, most people who suffer back pain say that they don't know what causes it. Talking to a trained osteopath can help you to get to the root cause of your pain. If you're in doubt, remember:
Back pain that lasts more than a few days isn't normal
You don't have to put up with back pain
Back pain isn't a standard part of aging
Most back pain is the result of a weakness in the lower back
Back pain is aggravated by poor posture
Most back pain can be treated without surgery.
Osteopathy is proven to be effective in treating back pain. If you're confused about how to best deal with your back pain, talk to the team at Focus Osteopathy today.
Painkillers can be addictive
Time and again we see people in our clinic who rely on painkillers to manage their pain. While painkillers can mask the pain for a short time, they don't address the root of the problem.
Before you start taking painkillers regularly, check in with one of our trained Osteopaths to find out what is causing your pain and what drug-free treatment options are available to you. Taking painkillers regularly can have some adverse side-effects so it's preferable to manage your pain without medication, where possible.
Surgery isn't usually the answer
Let's face it. No one wants to go under the knife unless it's absolutely necessary. While some back conditions are best treated with surgery, many — especially lower back pain — can be successfully treated with regular osteopathic treatment and exercise.² Before you commit to a surgical procedure, do your research and check in with one of our Osteopaths to assess your options. There's a good chance that we can keep you away from the operating theatre.
You don't have to put up with it
Back pain isn't a normal part of aging and you don't have to put up with it. Talk to one of our Osteopaths about what causes your back pain and how we can help you take control of it, now and into the future.
In your first session with us, we will:
Determine the cause of your back pain
Create a treatment plan
Work to relieve your pain
Give you advice on movement and posture
Show you the right exercises to speed your recovery
Osteopathy treatment can reduce your pain and improve your mobility so you can get back to doing the things you enjoy.
Every day, thousands of people around Australia turn to Osteopathy to treat their back pain. While everyone's situation is different, you may notice reduced pain levels almost immediately.
*This free session is for people who are nervous or sceptical about Osteopathy – unsure of its benefits – or if it is right for them. Please refer to the Terms and Conditions page for further details.
¹https://www.aihw.gov.au/reports/chronic-musculoskeletal-conditions/back-problems/contents/what-are-back-problems
²https://www.sciencedaily.com/releases/2016/02/160229095434.htm#