"We help people aged 45 plus improve their health, stay as active as possible, increase their mobility, and reduce their musculoskeletal pain, without relying on painkillers."
Claim your free guide before having another treatment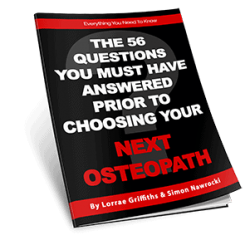 If you're over 45, it's likely that you've thought about the importance of staying strong, healthy and mobile. You might have also thought about how important it is to not rely on painkillers, or how you'd like to be living a more active life with your family. If this sounds like you, it's probably a good idea to check in with the team at Focus Osteopathy.
Are you experiencing any of the following?
Tension-induced migraines?
Lower back pain?
Pain and swelling in your hands and feet?
Pains and spasms that keep you awake?
Back pain after shopping, or picking up your grand-kids?
A general feeling of slowing down?
The great news is that osteopathy is considered to be an effective treatment for musculoskeletal conditions for people over 45.
If you're experiencing common aging issues like the ones listed above, you're not alone. In fact, the aches and pains of aging are among the most common problems that we encounter at our Osteo clinics.
Here's what you can do to feel better
Here are four things that you can do right now to help you feel better.
1. Make the decision to get help
Aging doesn't have to be a pain, and you don't need to put up with feeling sore and miserable. If your pain has lasted for more than a few days, make an appointment to see one of our Osteopaths today.
2. Do the RIGHT exercises
Your Osteopath will give you exercises to help reduce pain and the limitations it has on your life. These will help you to:
Strengthen your bones and body
Stabilise your balance and prevent falls
Gently stretch your muscles for mobility and strength
Increase your flexibility to improve your range of motion.
3. Get educated
We'll help you understand what's happening in your body, and how to manage it so it doesn't hold you back from enjoying your life.
You'll feel confident and empowered with education about diabetes, heart health, weight loss management, or lifestyle and daily functioning.
4. Get effective, hands-on Osteo treatment
At Focus Osteopathy, we treat lots of people over 45. In fact, neck pain, knee pain, and back pain are some of the most common issues that we see people aged 45 plus going through. Osteopathy has been shown to be effective for the treatment of these pains.
If your pain is affecting your day, or if it is holding you back from your favourite activities, talk to one of our osteopaths about getting back to
normal.
In your first session with us, we will:
Determine the root cause of your pain
Give you suggestions on how to sit, stand and move better
Introduce you to the right exercises to speed your recovery
Treat your pain
Explore natural treatment options to help you avoid surgery.
Aging is a natural part of life. Every day, thousands of people around the world use osteopathy to treat and manage their pain. Remember, you don't need to put up with pain. Talk to us today to find out how we can help you get back doing the things you love.
*This free session is for people who are nervous or sceptical about Osteopathy – unsure of its benefits – or if it is right for them. Please refer to the Terms and Conditions page for further details.